I recently saw a news program from the UK about "Dancing Man" that drew attention to cyber-bullying. This man was an overweight, average guy dancing in a club who was photographed and heckled by a group of people (mixed gender) via social media. There is a before picture of him happily dancing and an after photo, where he realized what the group has done and looks ashamed. A group of women in the States caught site of this post and banded together to undo the damage, by hosting a dance party for "Dancing Man." At the end of the day, the cyber-bullies gave him the opportunity to meet a ton of famous and beautiful women in parties all over the trendiest clubs of Los Angeles; something I doubt they do on a regular basis. The "Dancing Man" is a rare exception to the norm. Most people who are victims of this type of bullying do not have the world come to their rescue. Some may not even be aware that they have been bullied. I'm coining the term "instabullies" as the popular social media site Instagram has become a playground for both insidious and overt bullying. And don't think for a second that your bullies are just preteens and young adults. The age range creeps well into middle adulthood.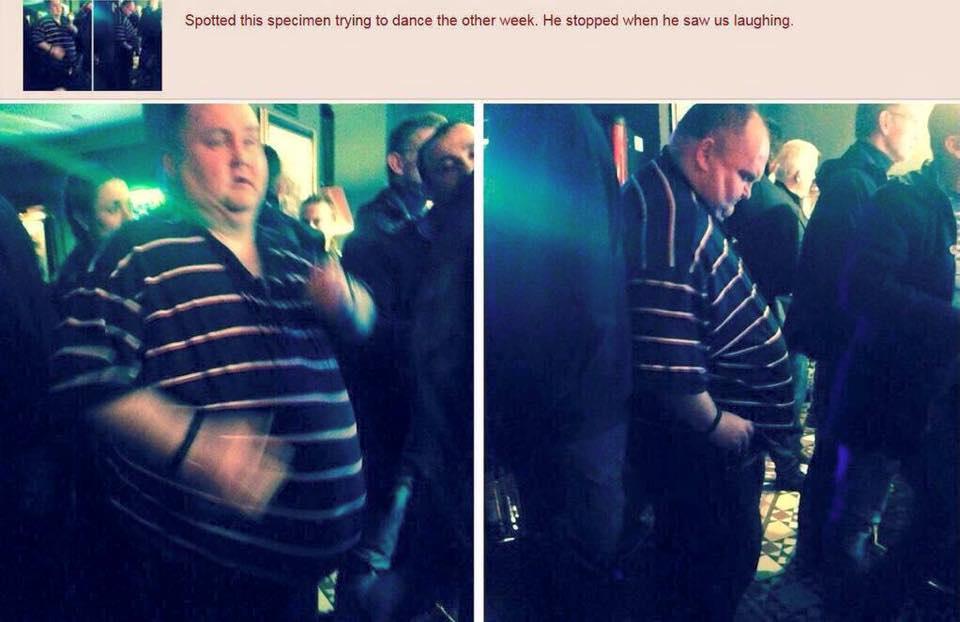 Most of us have an image of what a bully is in mind, either from the media or our own elementary through high school experiences. Outside of getting one's ass kicked, there are other forms of bullying. Relational aggression is the worst kind of bullying. It's below the belt, hits you where you are weakest and can have far reaching psychological repercussions. Its hallmark is social manipulation achieved with a number of tactics that include group exclusion, spreading rumors, public embarrassment, breaking confidences, backstabbing and getting others to dislike another person. Popularity (i.e. sociometric status) is a huge determining factor in bullying. Research indicates that relational aggression is more effective for maintaining the popularity status of a group among other groups, as well specific relationship and status dynamics inside a group. Now this seems to apply to the younger, school age population, but bare in mind that group membership and status present themselves at all stages in life. Take, for example, the workplace. Its social organization can mirror high school quite a bit – cliques form of so called popular people who go to happy hours, events and other activities together and only together. The rest of the population either wants to join them, despises them and could care less about their exclusiveness or both despises and wants to join them. It relates back to self esteem – the higher it is, the less sociometric status factors into feelings of one's worth. Relational aggression is sometimes referred to as the Mean Girls Phenomenon borrowing from the film title that put this form of bullying on the map for millennials. While the mention of Girls may make it seem that it is gender specific, both men and women engage in this form of aggression as we saw with "Dancing Man." However, it is true that women have a tendency toward the use of relational over physical aggression.
There are many reasons for the above; some obvious and some not. The obvious ones are jealousy, feelings of insecurity and need for control/power. The not so obvious – boredom and social modeling. The former just blows my mind considering how many other activities one could "busy" themselves with over ridiculing others. The latter I have been witness to and fully agree. Just the other day I watched a grown adult take a photo of a morbidly obese woman sitting across from her on the subway and then tell her daughter how she was going to do something funny. Her furious typing indicated to me she was either posting the image with commentary somewhere or sending it via text/chat to her contact(s). That little girl observing this behavior is absolutely likely to copy it if major interventions in school or in her community do not intercede to prevent the cycle from continuing. Recall what I noted earlier about the age range for cyber bullying starting at preteen all the way into middle age – that's at least two if not three generations all engaging in the same social offense. What does that say about the future of our society?
I often think about how bullying evolved in our human history. When did it become necessary to intimidate and abuse others through physical and psychological means? According to an article on the origins of bullying in Scientific America, it seems to be a universal feature in human society; "…a species-typical human behavior that has little to do with the cultures people live in. Bullying, it seems is part of our normal behavioral repertoire, it is part of the human condition." (Sherrow) Preliminary research indicates that universal behaviors often have deep evolutionary origins, even stemming from our previous human ancestors – primates. Behavioral studies of animals, including primates, indicate that they engage in bullying. This behavioral pattern was assessed by determining if the behavior was meant to intimidate another. Frequent use of intimidation and aggression to manipulate the behaviors of others and to acquire resources was seen in the female baboon population. In chimps, the author noted that his studies of adolescent males strongly indicated a pattern of bullying as the smaller adolescent chimp attempted to enter the adult male hierarchy. So, essentially we've been tearing each other down before we evolved into upright Homo Sapiens, but for a good reason – survival.
The primordial behavior we inherited from our primate cousins has changed dramatically thanks to natural selection. It was modified by our ability to mentalize i.e. our awareness of ourselves and others' mental states that guide our actions. If you better understand the desires and feelings of others, you have a more effective gateway into manipulating them. Think about any country with a history of coercion and conformity. Bullying is a daily occurrence to maintain social order and control. It's not the culture that created the bullying. Instead it supports and promotes the use of this behavior pattern. Indeed, bullying can be employed in many different ways and for a variety of outcomes across societies, ages and genders. And with technology making it so much easier to engage in this behavior, bullying could evolve even further into a pastime no different than Candy Crush. Yes, it's in our DNA; however, it doesn't have to become our default. A little empathy goes a long way. I'm cautiously optimistic…cautiously.
MORE INFORMATION:
US Department of Health & Human Services:
http://www.stopbullying.gov/what-is-bullying/definition/
Sources:
Bullying and social identity: The effects of group norms and distinctiveness threat on attitudes towards bullying. British Journal of Developmental Psychology (2004)

Sherrow, Hogan "The Origins of Bullying" Scientific America December 15, 2011